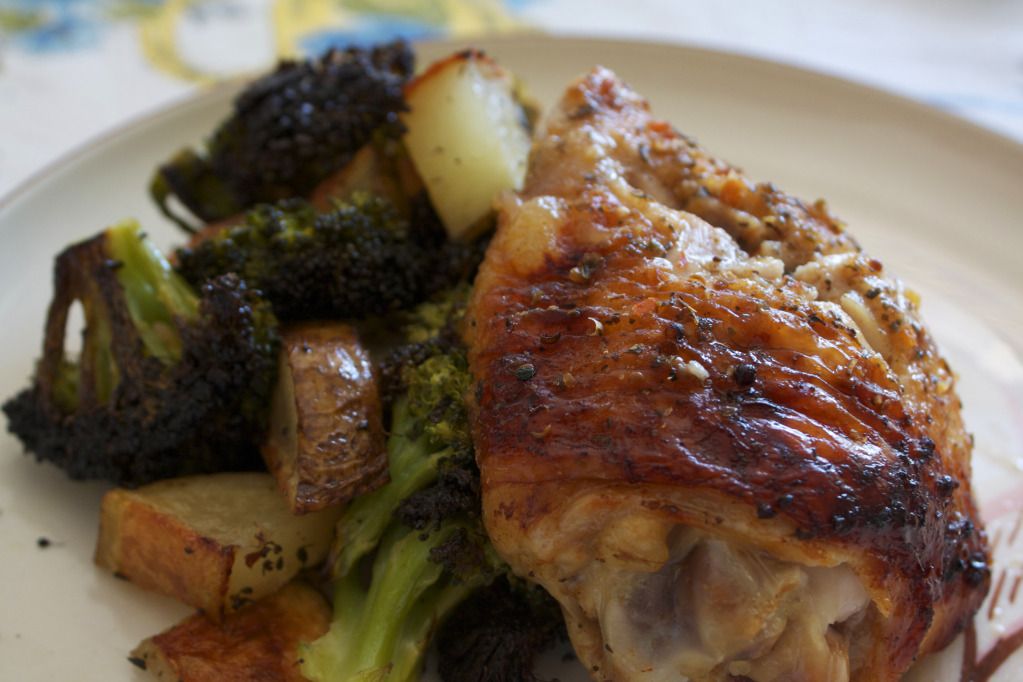 This is a super easy and tasty dinner that I make for L and I all the time! It's great for summer and a busy work week.
Ingredients
4 chicken breast (bone and skin on)
2 potatoes (I use yukon gold)
1 broccoli head
1 bottle of Stubb's chicken marinade (Safeway sells it)
Olive oil
Salt and pepper
1.) Marinade the chicken over night in about half of the bottle of Stubb's marinade (this marinade is really good, I really suggest trying it!). I marinade mine in a Tupperware container, or a big plastic bag. The next day, preheat the oven to about 400 degrees Fahrenheit.
2.) Cut up the potatoes and broccoli into bite size cubes. Lay the veggies on a baking sheet (I line mine with aluminum foil for easy clean up) and cover with olive oil and salt and pepper. Mix the whole thing up with your hands to be sure everything is well coated.
3.) Place the chicken on another baking sheet, also lined with aluminum. Cover the chicken with the extra marinade from the bag. Place both cooking sheets in the oven and allow to cook until golden and crispy. I would say it takes from 1/2 hour to 45 minutes to completely cook. I like my veggies golden and crunchy like my chicken.
4.) Take the chicken out of the oven and place on a plate. Put a few extra splashes of the marinade on top of the chicken and then allow to rest for about 10 minutes (cover the chicken with aluminum foil too!). Once the chicken has rested dish the chicken up with the veggies and you are ready for dinner!
This is a simple and tasty week night dinner that you could easily serve for company too!