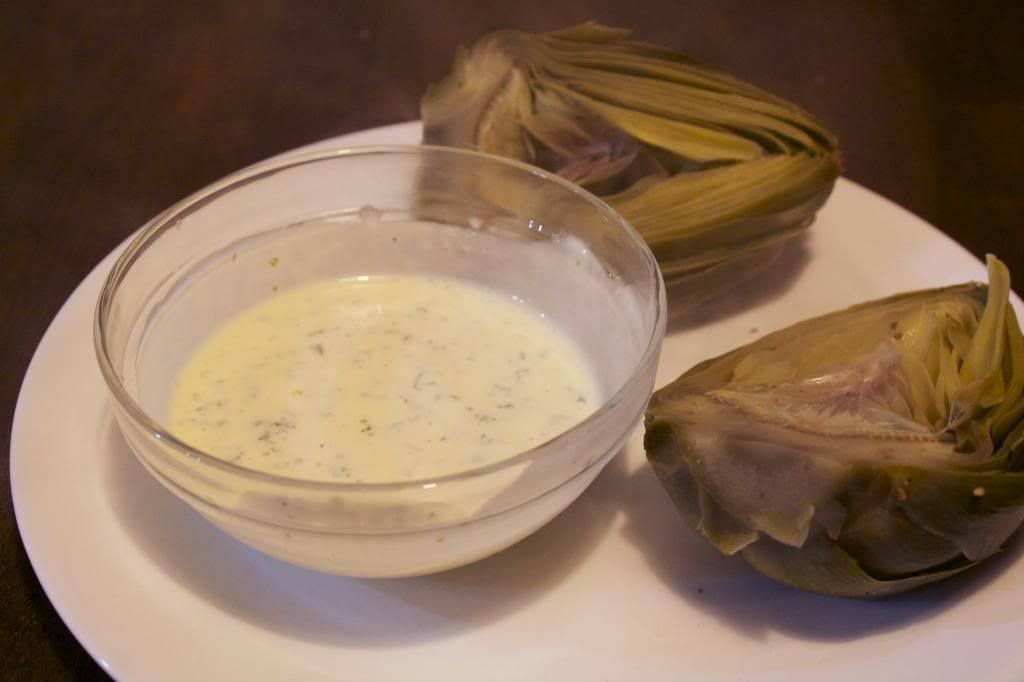 L and I decided to try a new recipe and get a little fancy around here (college students cooking artichokes, say what?!?). It was pretty darn good if I don't say so myself. I forgot how good artichokes are and actually not as difficult as you might think to make. It's a pretty darn intimidating vegetable with all its spines. I kept reaching into the fridge and poking my hands when I was rummaging around for the onion and garlic. I love almost anything with balsamic vinegar. A good balsamic dressing is by far my favorite type of salad dressing, so I was pretty excited to try this balsamic chicken recipe I found on foodnetwork.com.
Here is the recipe I followed:
I made a few changes. I added fig jam to the balsamic dressing because I love the sweet flavor it gives it. I also used chicken breast instead of a whole chicken. I pan seared them and then baked them in the oven with onions, garlic, chicken broth, and a light glazing of the balsamic dressing. While the chicken was baking I thickened the balsamic dressing over the stove. When the chicken came out I added some of the chicken juices and the onions to the thickening balsamic sauce to give it more flavor. I sliced the chicken and put it over some rice and then poured the sauce over all of it with a little parsley to finish off.
The artichoke I simply cut off the stem and cut it in half and boiled it on the stove top. I added half a lemon, salt and pepper, and some garlic to the water to give it a little flavor. I boiled it for around half an hour or until the artichoke was soft. The dip was made from 1/2 cup of mayonnaise, lemon juice from 1/2 lemon, a handful of chopped parsley, 1 chopped garlic clove, and salt and pepper.